Khalifah Model School (Secondary) is an integrated Islamic school that integrates Revealed Knowledge and Scientific Knowledge i.e. Syariatullah and Sunnatullah. We adopt the Cambridge system whereby International General Certificate of Secondary Education (IGCSE) is the school exit point.
To be a premiere school in utilizing Khalifah Method in raising children to be excellent Muslims
To shape students towards excellence by helping them develop their taqwa (so they are inclined to choose good and refrain from wrong), and motivation to learn.
"Shaping Excellent Character"
At KMSS, we want students to excel not just academically but also as khalifahs of Allah. 
To achieve this goal, the school organizes various programs and modules that inculcate the spirit of volunteerism, philanthropy, and environmental awareness as well as help the students develop important life skills like sewing, cooking and communication.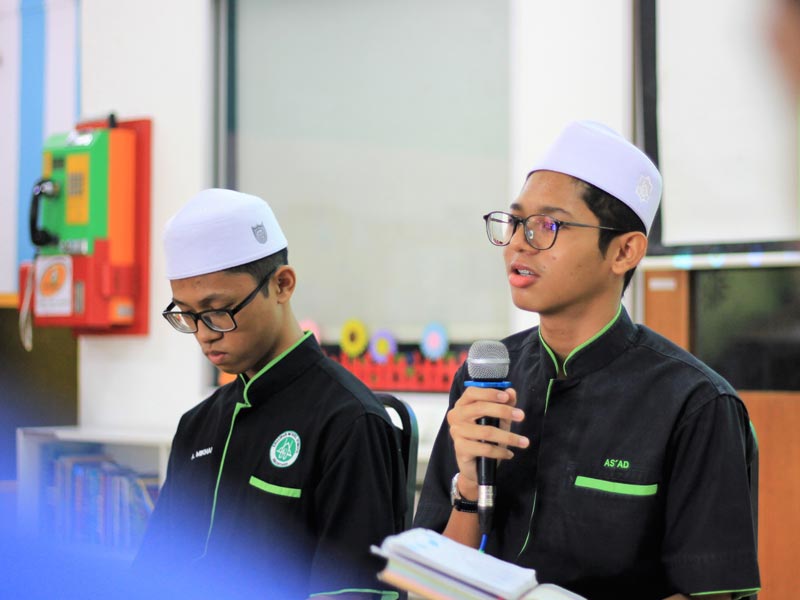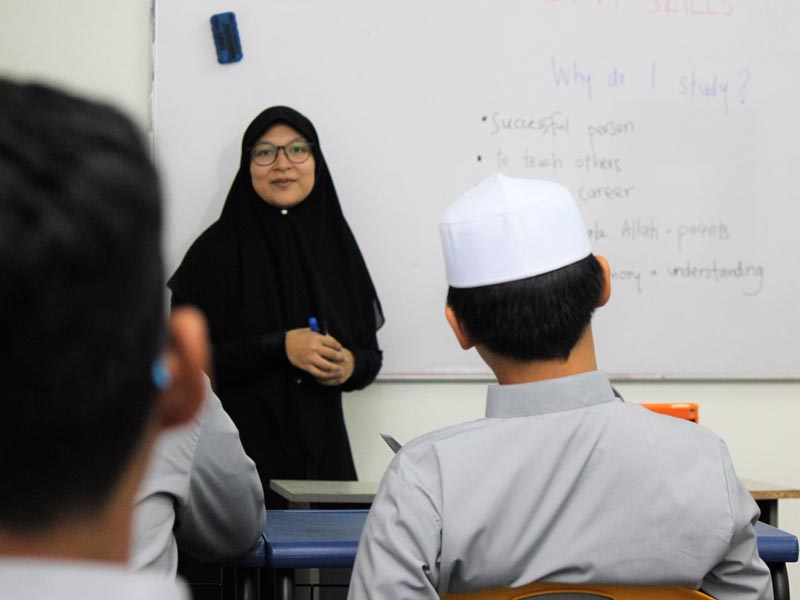 The Uniqueness of our School
The school as a whole (institution, curriculum and pedagogy) is run in accordance with the Khalifah Method which was founded by Prof Muhammad al'Mahdi Jenkins. It consists of three pillars:
Character and Disciplinary Building
Khalifah Model School (Secondary) uses reinforcement (reward system) and stays away, as much as possible, from any forms of negative disciplinary actions and harshness such as abusive words, insinuation that might humiliate students and also corporal punishment .Khalifah Method is the blueprint for schools to implement the concept of kind and firm, which is being gentle in our interaction but firm in enforcing principles and decisions.
What Parents and Alumni Say
KMS is different from another school as the curriculum and the system build students's character not only IQ and academics. I would always recommend KMS as KMS not only teach and build a good character in students but they also provide training (and I think that is so important and beneficial) to parents.
KMS provides a high-quality education in a friendly and family-type environment, successfully preparing students for their future education, growth and development using Khalifah Method. The school allows our children develop not just knowledge academically but also skill sets that are critical and required further in life such as faith, good character, kindness, respect and team work. The whole environment where this is achieved is important i.e. the classes are small, and the education is personal, hence the teachers know their students and can tailor their efforts to individual student needs.